Brake Service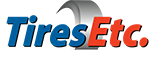 What A Tires Etc. Brake Service Includes
Premium brake lining that will not squeal
No unsightly brake dust on your wheels
Smooth responsive braking
Premium long-lasting brakes
Brake pads & rotors tailored to your driving needs
$25 Off Brakes
Per Axle!
For a limited time, get a $25 Instant Discount per axle with installation of new brakes.
Must present coupon at time of service. Most makes and models. Some restrictions may apply. See store for details.
Brake Service, Repair, and Replacement
The proper function of your brake system is fundamental to the safety of your vehicle. Brake system components wear over time, so if you notice a change in your brakes such as chirping, scraping, or feel any shaking during braking, it is essential to have them checked as soon as possible.
At Tires Etc we offer quality brake services and repairs for almost every vehicle. Our technicians will get the job done right so you have the confidence of knowing that your brakes are in proper working order.
Quality Brake Pads and Rotors
Brake pads and rotors should be replaced together and can be tailored to your driving style. Replacing pads and rotors together ensures that there is no squeaking or vibration from your new brake setup.
Matching quality brake pads and rotors to your driving style will ultimately improve braking performance and the life of your brakes.
Frequently Asked Questions:
What is included in our brake replacement service?
At Tires Etc. we perform a more in depth brake service, starting with checking what is needed to do the job properly, not just throwing parts at the problem.
When replacing brake pads, we clean and lube the slides and brackets
We clean or replace brake hardware
We check for brake fluid leaks
Verify proper operation of calipers
Ensure that the proper brake pads are used
When brake rotor replacement is required, we clean the mounting surface for proper seating of the brake rotor
How do I know if I need new brakes?
The most common indicators are:
Unusual noises coming from the vehicle when applying the brakes.
Squealing while driving that ceases when applying the brakes.
Vibration or shaking in the steering wheel when applying the brakes .
Vehicle pulling to one side when applying the brakes.
Brake pedal feels soft or spongy.
Brake pedal feels extremely hard.
Brake warning or ABS lights are on.
Why does my car make a squealing or grinding noise when braking?
Squealing while braking could indicate an inferior quality brake pad, hard brake pad, debris stuck between the pad and the rotor, or overheated pads and rotors, or indicate a more in depth issue in the braking system. Proper diagnosis performed by an experienced technician is the best way to determine what the problem is.
If there is a grinding noise when braking, the most likely indication is that the pad lining is completely gone and the metal backing plate is grinding into the rotor. If this happens you need to stop driving immediately and have it diagnosed by a certified technician.
Why does my car make a squealing noise while driving that stops when braking?
Some brake pads come equipped with squealer tabs that, when the brake pads are low, make a squealing noise while driving that ceases when braking. This is an indication that brake pads are low and need to be replaced.
Why does my vehicle steering wheel shake or vibrate when braking?
The most common cause is excessive run-out (warping) of the front brake rotors, which causes the brake caliper to shake side to side as the brake rotor is spinning between the compressed brake pads with feedback being felt in the steering wheel. This is an indication that both brake pads and rotors need to be replaced to avoid more costly repairs.